Accidental deletion of photos on your device can put you in trouble. Even when you delete any file intentionally, there may be chances that you may need to recover deleted photos. Luckily, there are several methods by which you can restore the photos deleted from your device, both with or without any backup.
If you have deleted large photo files, either intentionally or by mistake, questions may appear in your mind: Does the Recycle Bin have a limit to store deleted files? Where do permanently deleted large photos or other types of files go? Don't worry, we will help you to know the answers to all these questions and help you to solve your problem: How to recover deleted large photo files?
Does Recycle Bin Have Any Limit to Store Deleted Files?
The Recycle Bin in Windows devices has a limit on the storage capacity of your deleted files. The maximum size of the Recycle Bin is by default approx. 5% of the overall size of your disk drive. However, this size is determined by the settings configured on your device.
When Recycle Bin reaches the maximum size limit, it automatically starts deleting older files to make space for new ones. If you delete files larger than the remaining available space in the Recycle Bin, it will lead to permanent deletion of files without being moved to the Recycle Bin.
You can go through the following steps to adjust the maximum size of the Recycle Bin:
Right-click on the Recycle Bin icon appearing on your desktop, and then select Properties.
From the Properties window, you'll get options to configure the maximum size for each drive.
Now, select the size as per your requirement or choose the "Custom size" option and enter a specific value.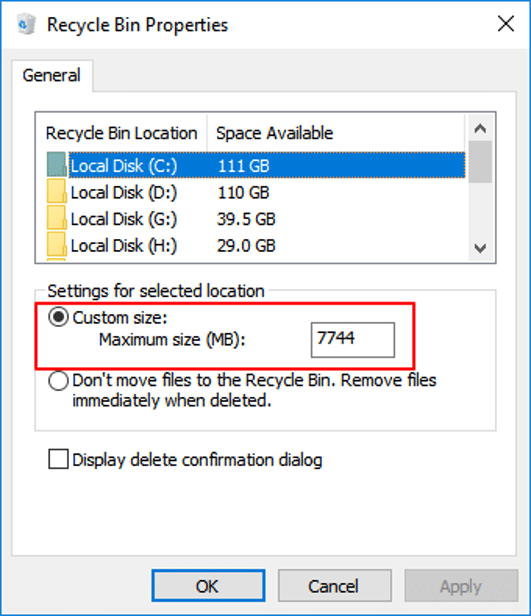 At last, click "OK" to save the changes.
How do I Recover Large Photo Files?
We will now help you know the best photo recovery methods that you can apply to restore deleted photos on Windows devices. Just go through the methods mentioned in this part of the article to know how to recover large photo files:
Method 01: Recover Deleted Large Photos from Recycle Bin
You can restore your deleted large photo files from the Recycle Bin folder. This folder contains all your temporarily deleted files for some specific number of days, say 30 days. After this, your Recycle Bin gets permanently emptied. Now, go through the following digital photo recovery steps to get your deleted photos back:
Double-click on the Recycle Bin icon to open it.
Locate and select all the images that you need to recover.
Now, right-click on any selected file and select the Restore option. After that, your files will be automatically saved to the Original Location where your files were earlier stored.
Wait till the process gets successfully completed and check if your files are back.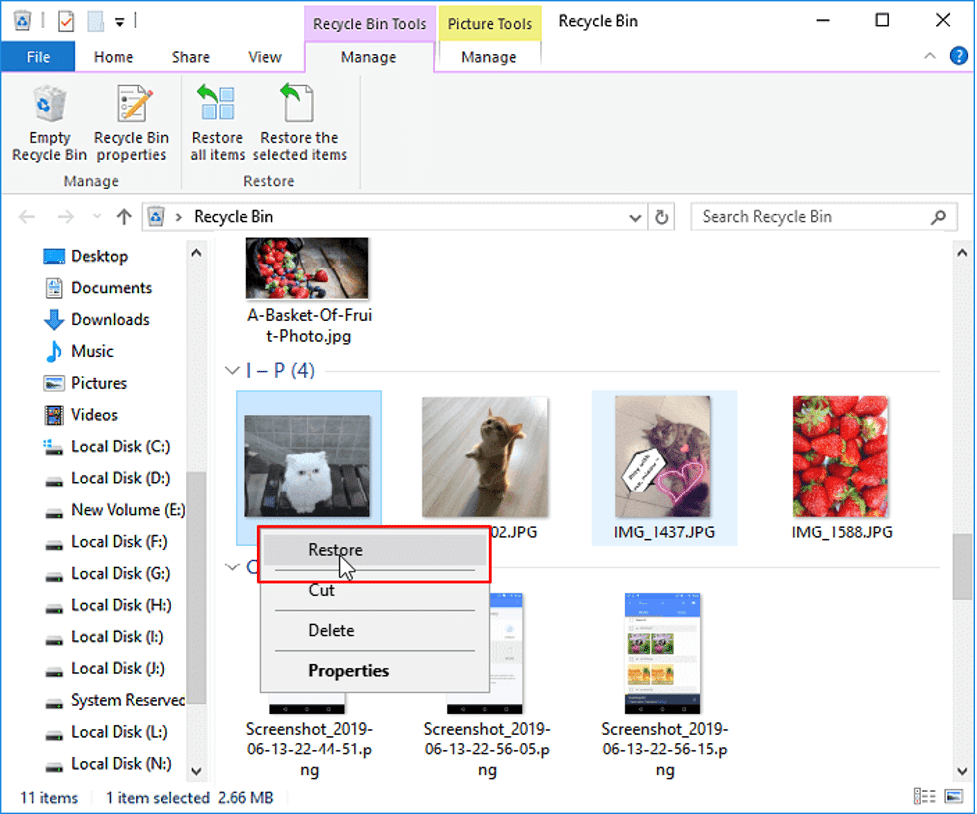 Method 02: Use Backups to Recover Deleted Photos
If your image is permanently deleted and no longer available in the Recycle Bin, you can use Backups (if created earlier) to restore the deleted photos. In such cases, you need to create a backup of your files before they are actually deleted. Windows OS comes with a Backup and Restore feature that you can use to get deleted files back.
To recover large photos using Windows in-built backup utility tool, you need to go through the following steps:
First, you need to connect the external storage drive where you have created a backup to your computer.
Now, click on the Windows Start button located at the bottom-left corner and then go to Control Panel > System and Maintenance > Backup and Restore.
Click on any one option among Restore my files or Restore all users' files.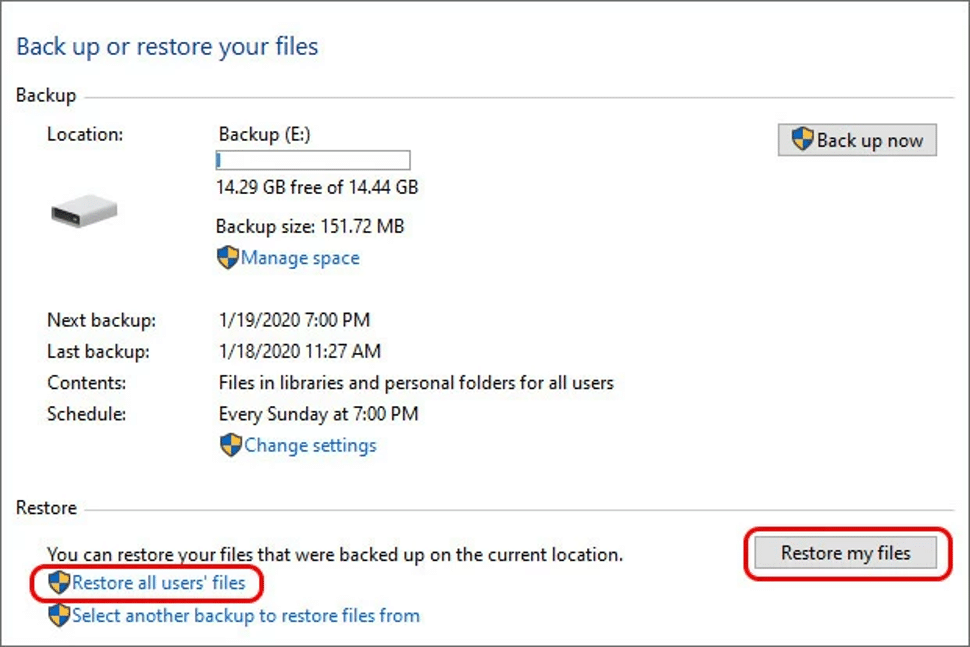 After that, click the Browse for Files or Browse for Folders option to search for your lost photos. If you have selected the Browse for Folders option, you may be unable to see individual files.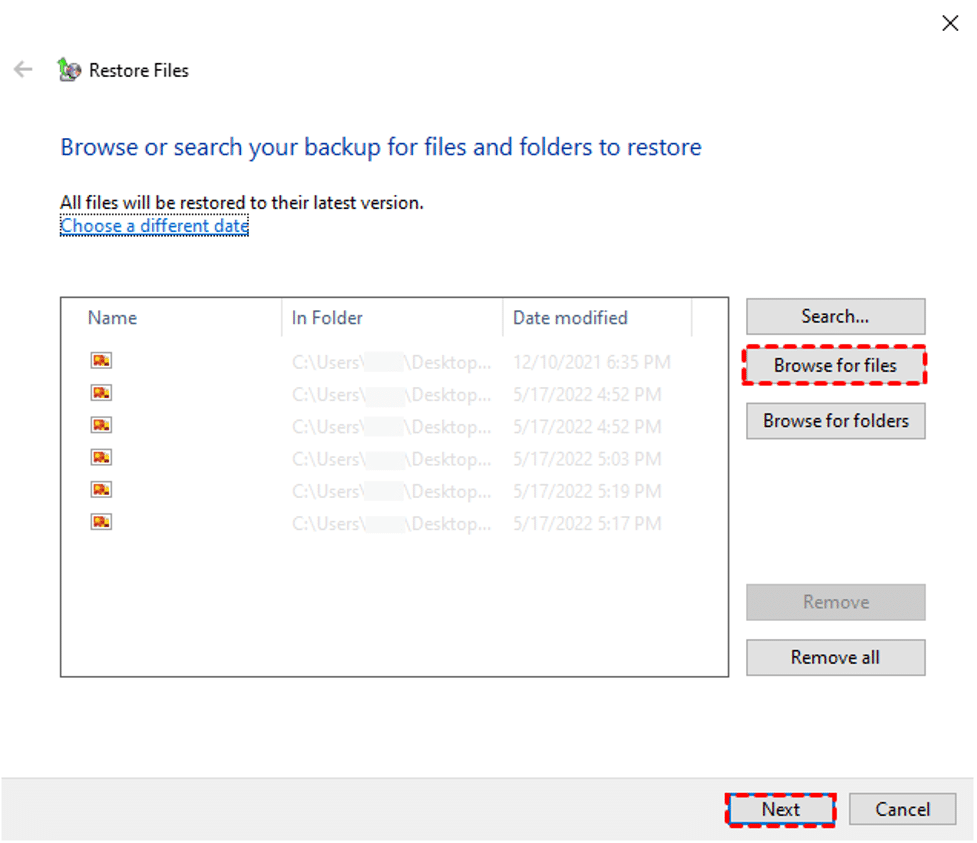 Select all the photos that you want back and click the Restore button to recover them.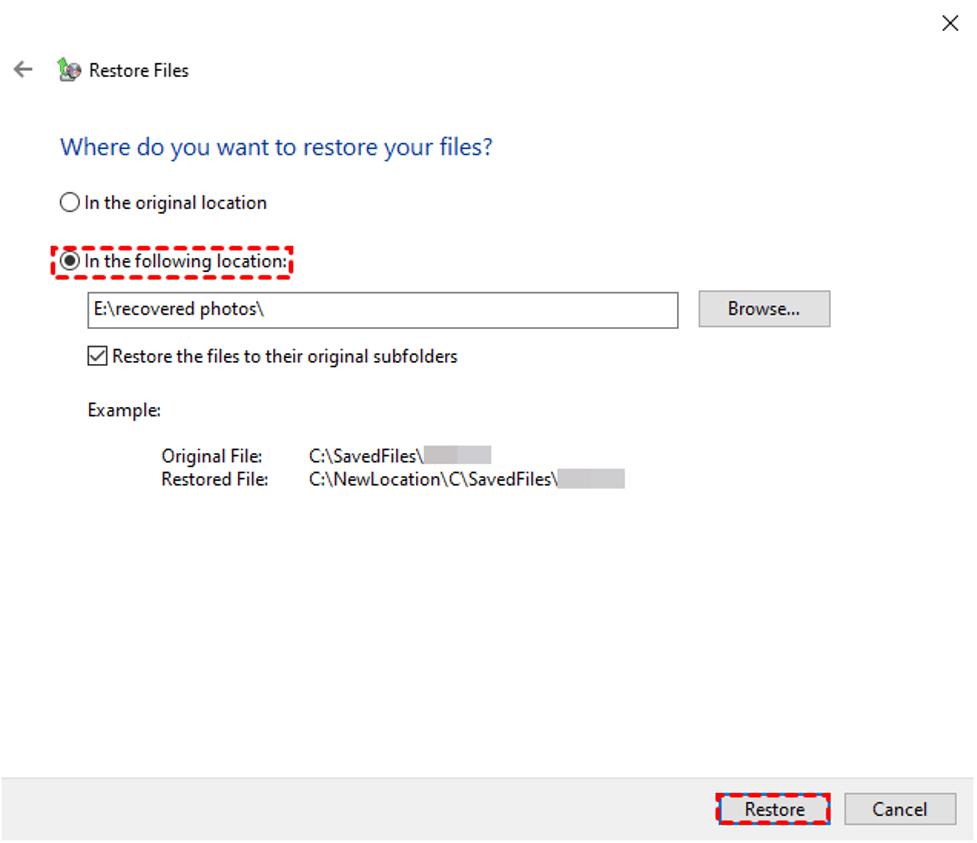 In case, you have created the backup on cloud storage devices, such as Google Photos, you need to log in to your registered account. Go to "Library" or "Photos", and then click on the "Menu" option. Select all the photos you need to restore, tap the "Restore" button and choose the appropriate storage location to save your photos.
Method 03: Recover Deleted Large Photo Files Using Data Recovery Software
If your deleted images are not available in the Recycle Bin folder and you haven't created any back of it, you can restore such deleted photos using a photo recovery tool. There are several photo recoverytools available online that you can use to recover large photos which are no longer available on your device.
Stellar Photo Recovery is a reliable tool which offers 100% safe and secure recovery of lost or deleted photos. The software is easy-to-operate for all users no matter with or without expertise. Check some amazing features of this professional photo recovery tool that make it best for your photo recovery:
It recovers multiple types of files, including your deleted photos, videos, and raw images.
Supports recovery of files deleted due to accidental deletion, corruption, formatting, human error, & virus attack, etc.
Recover files deleted from internal/external HDD/SSD/USB/SD card, etc.
Allows you to preview the recoverable photos before saving them on your device.
Just follow the easy process to know how to recover large photo files:
Download and install the Stellar Photo Recovery software on your device. Launch the software and select the location from where you need to recover deleted large photos, click Scan.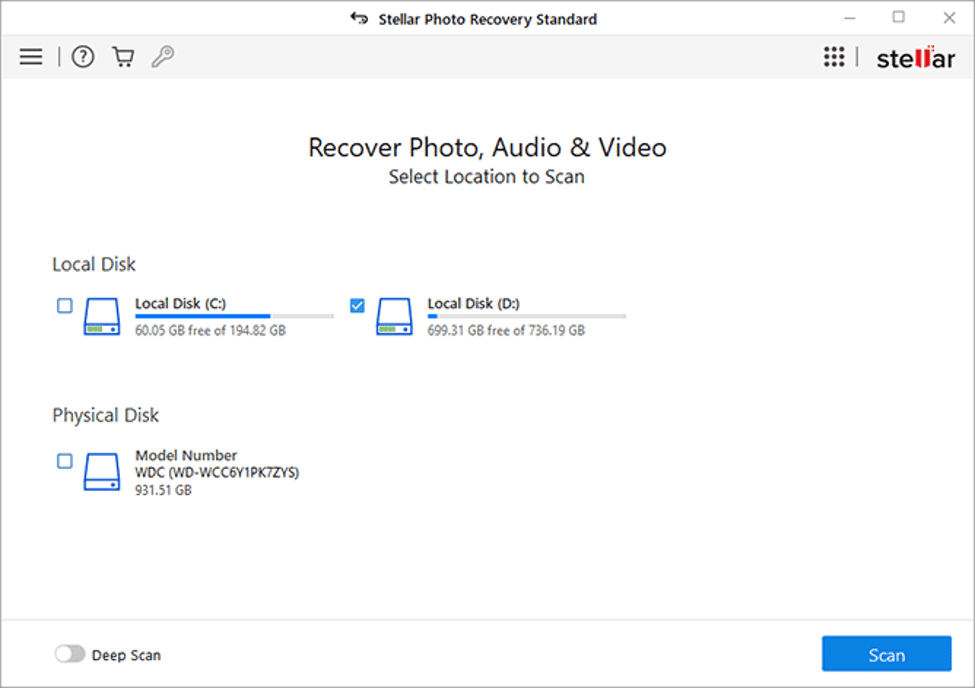 After successful completion of the scanning process, preview the recoverable files and select all that you need to recover.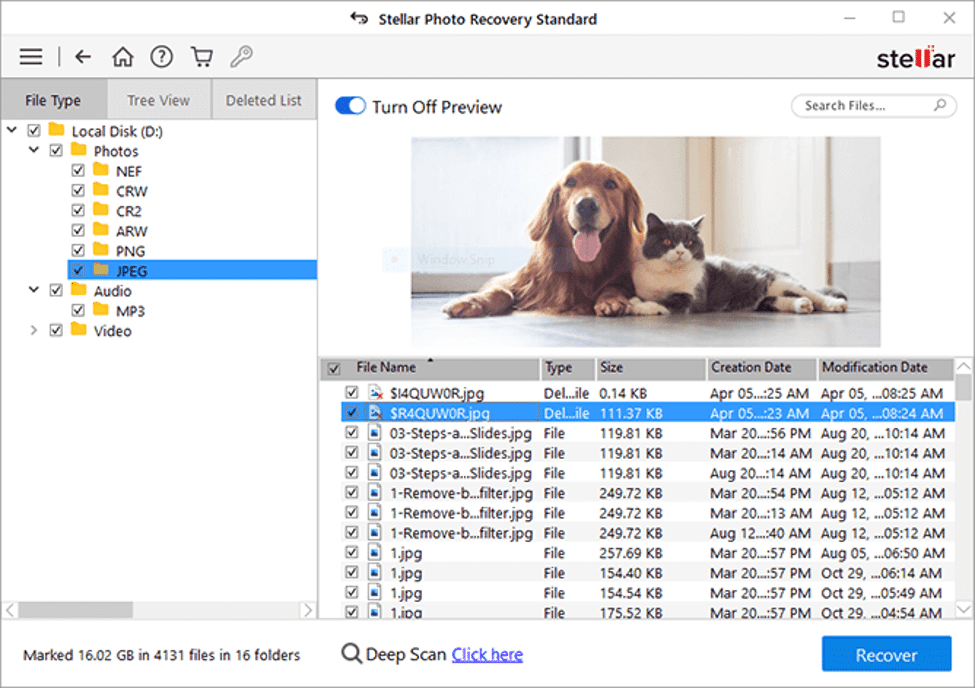 Click the Recover button to save the required photos at the desired location.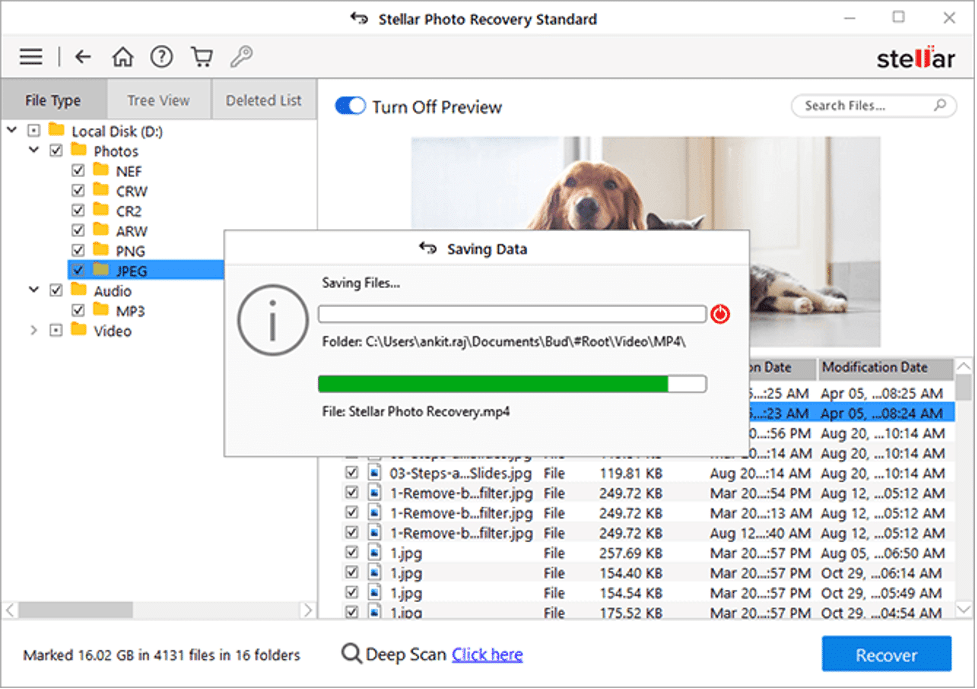 Tips to Prevent Deletion of Large Photo Files
It is somehow easy to recover deleted photos on your Windows device, but it will be better to avoid such issues from our end. Some of the important points that you can keep in your mind to prevent the deletion of large photo files are:
Configure your device or application settings to display a prompt asking for confirmation before deleting files.
If you want to avoid the sudden deletion of photos on your device, keep them at a secured storage location. Avoid saving important files, including your photos on your desktop.
Regularly back up your photos to a separate location or cloud storage service.
While deleting photos or any other files on your device, be double-sure and check the selection before deletion.
Bottom Line
In this post, we have discussed some common methods on how to recover deleted large photo files. There could be multiple reasons why photos get deleted from your device. Irrespective of the exact reason, it is important to apply proper methods to get those deleted photos back on your device. As backups play a very important role in data loss issues, try to have multiple backups of your important files. If you forget to create the backup, use the Stellar Photo Recovery tool to restore your deleted photos.